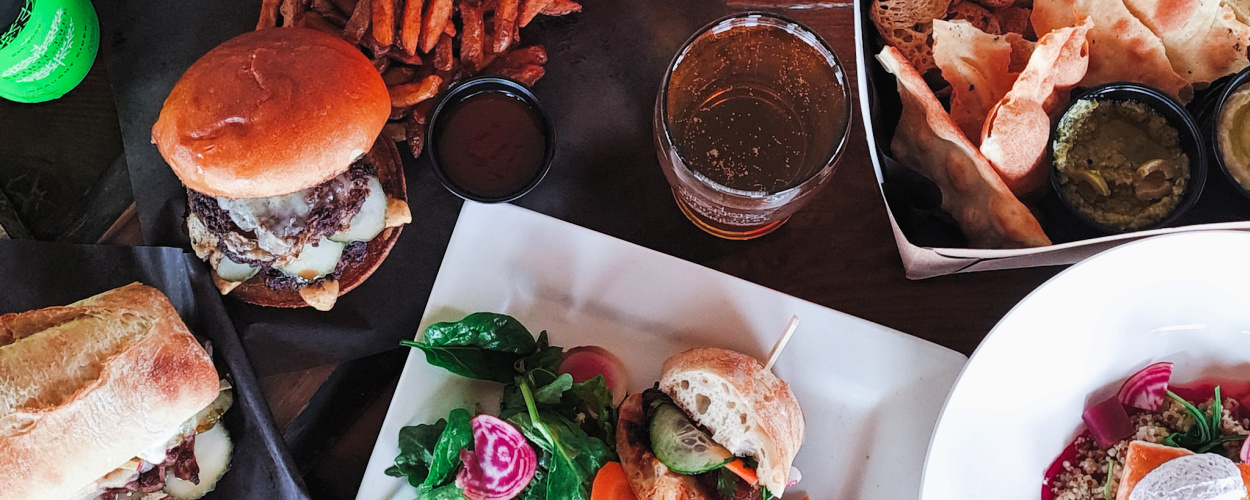 Bring the taste of Spirit Tree home to enjoy!
CIDERHOUSE BISTRO TAKE-OUT MENU
TAKE-OUT PROCEDURE:
Click on the item to see the description, select your side dish (if applicable) and ask for any modifications.
At the check-out page, you will be asked to select a pick-up date and time.
Once placed, you will be sent an order confirmation.
Please arrive at your selected pick-up time.
PICK-UP: if you have ordered online, your order will be ready for you inside the Farm Shoppe.
CURBSIDE: upon arrival, park in front of the store and call us at 905-838-2530. If the phone line is busy, hang up and try to call again. We have only one line and sometimes it is busy. Thanks for your patience!
Pizza/Take-out orders cannot be combined with Farm Shoppe and Bakery items. You will need to place a second order.
Pizza/Take-out can be combined with non-alcoholic and hard cider within the same order.
TAKE-OUT HOURS:
Thursday: 11 am to 4:30 pm
Friday: 11 am to 7:30 pm
Saturday: 11 am to 7:30 pm
Sunday: 11 am to 4:30 pm
TAKE-OUT NOTES:
There are no delivery options for take-out (pick-up/curbside only).
You can add wood-fired pizza to your take-out order but pizza is limited to select times (Fri. & Sat. from 4 pm to 9 pm).
You can add alcoholic and non-alcoholic cider to your order by clicking on SHOP NOW.
Due to limited quantities, freshly baked breads & pastries cannot be added to your order unless you order 1 day in advance.
Questions about the menu or your order - 905.838.2530
Petite Frites (V/DF/GF)
Ontario mini red potatoes cut & fried with the skin on. Tossed with Spirit Tree sumac seasoning.
Weekly Soup Feature
Chef's weekly creation. Call the Farm Shoppe for details.
Charcuterie Box
An artisan cheese matched with a cured meat, house-made flavoured butter, pickled vegetables, local produced jam, seasonal fruits, candied nuts, fresh sourdough and freshly baked crostini.
Cauliflower Wings (V & GF)
Roasted cauliflower florets battered in a chickpea flour. Served with our house-made honey garlic and hot sauce.
Cider and Cheese Fondue
Emmental and Gruyere cheese melted with our Dry Hopped Cider. Served with tortilla chips, fresh bread and sliced apples.
House Salad (V/DF/GF)
Local lettuce blend with cherry tomatoes, pickled red onions, sliced cucumber, julienned carrots tossed in our house balsamic dressing. Add Chicken (+$3).
Wassail Salad
A spinach, arugula and kale mix with candied orange peel, dried cranberries, shredded apple and Cow's Creamery Applewood Smoked Cheddar. Dressed with cranberry & orange vinaigrette. Add chicken (+$3)
Pasta Bolognese (V)
Gemelli pasta served with a Bolognese sauce made with mushrooms, lentils and quinoa. Topped with parmigiana and a balsamic reduction.
Spirit Tree Deep Dish Quiche
Choose Roasted Vegetable (V), Lorraine (bacon and potato) OR Spirit Tree (chicken, roasted tomatoes and goat cheese).Our signature deep dish quiche, served with our house salad.
Winter Korma (V & GF)
Carrots, cauliflower, sweet potato and chickpea curry served on top of basmati and wild rice. Topped with caraway seed yogurt and crispy papadum.
Spirit Tree Signature Burger
Tender local ground beef patty, topped with roasted tomatoes, pickles, white cheddar, Bib lettuce, apple mustard and balsamic reduction. Served with a side of house salad or frites. GF upon request.
Spirit Tree Tourtiere
Beef and pork meat pie seasoned with cider and spices. Served with a chutney and choice of our petite frites or house salad.
V = vegetarian, GF = gluten-free