Apple Picking in our Orchard
NOW OPEN!
Available Varieties (for September 9/10): Honeycrisp, Macintosh, Cortland & Gala
APPLE PICKING HOURS: 
The orchard is open for picking in the fall on Saturday and Sundays ONLY
10am - 4pm
ENTRANCE FEES:
$5 per person, kids under 5 are free
APPLE PICKING BAGS: 
5, 10 and 20 lb bag are available. Apples are $2.50 per pound
CASH ONLY. There is a ATM inside the Farm Shoppe.
BAGS:
10 lb plastic bags will be provided upon arrival. No outside bags or backpacks allowed.
READY PICK APPLES:
We always have a variety of apples available for purchase in the Farm Shoppe.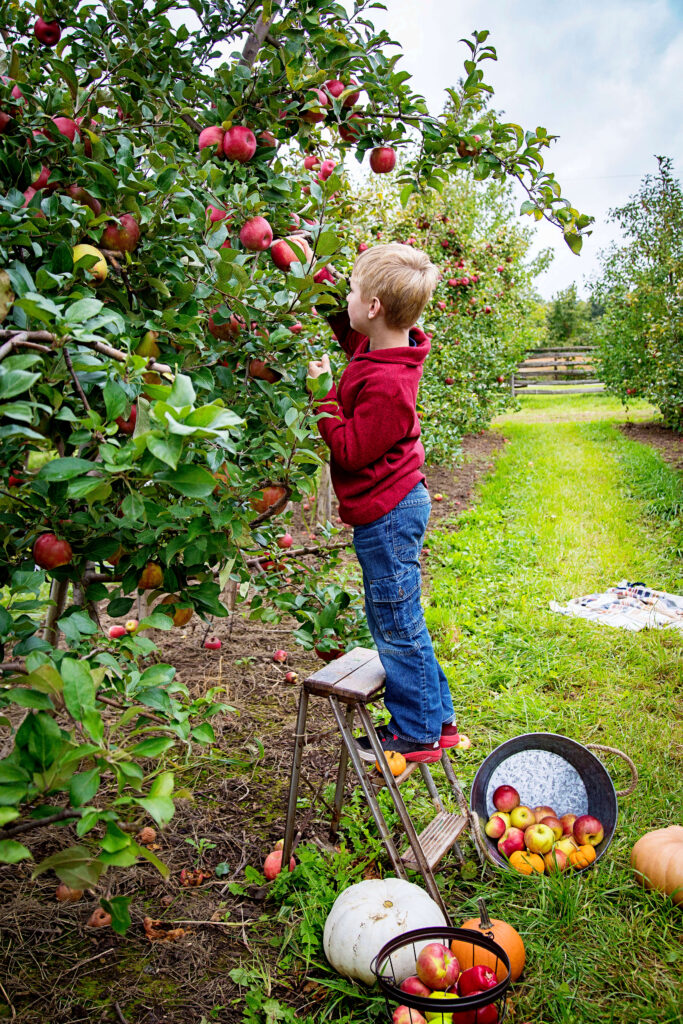 Apple Picking Tips
Don't pull at the fruit! Use one hand to hold the branch. Use your forefinger and thumb on the other hand to gently turn fruit upward until it releases.

Apples bruise easily so try not to drop or squeeze them.
If two or three apples are clustered together, use two hands and gently pick all the fruit in the cluster.
Gently place the apple in your bag, and repeat!
Just a few things to remember...
5 lb, 10 lb and 20 lb plastic bags are provided. Backpacks or carriers are not allowed for fruit picking.
Our Fruit is not free. Please Pay, Pick and then Enjoy!
Please do not climb or shake the trees. Limbs break easily, and the fruit will fall and bruise.
No unauthorized vehicles are permitted in the orchard. 
Please do NOT throw apples on the ground just because they don't look perfect. We work hard to grow our apples and they all taste great!

Fruit varieties mature at different times. Pick only in designated areas or where there is a guide or posted signs.

Do NOT throw apples at anyone or anything for any reason! 

Spirit Tree reserves the right to remove guests from our orchard at any time.

There are receptacles for garbage and recyclables— please use them!

Our Farm is SMOKE free (including the parking lot).

Dogs are permitted on a leash in the orchard but NOT on the wagon ride. Please clean up after your dog.
The most important rule...have FUN!
Other Apple Picking Questions...
No. When you enter, we will provide you with complimentary heavy-duty recyclable plastic bag. (10 lb and 20 lb bags available)​
Yes. We have portable washrooms in the orchard, as well as in the Farm Shoppe.
Dogs are allowed on a leash in the picnic area and orchard, but not on the wagon ride. Please clean up after your pet.  
We can only accept cash in the orchard. An ATM is available in the Farm Shoppe. Credit and debit are accepted in the Shoppe and Cider Gardens.
It takes approximately 10 minutes to travel round trip to the orchard and back
All apples except Red Delicious are good for cooking.
Cortlands are good for apple sauce and do not turn brown when crushed.
Our baker recommends Northern Spy for apple pies.
Chill your apples as soon as possible after picking.
Keeping apples cold will benefit apples in terms of flavor retention and quality.
Storing them in a refrigerator or cold storage room is best and they will stay nice and crisp for 6 to 8 weeks. At warmer temperatures they mature more rapidly.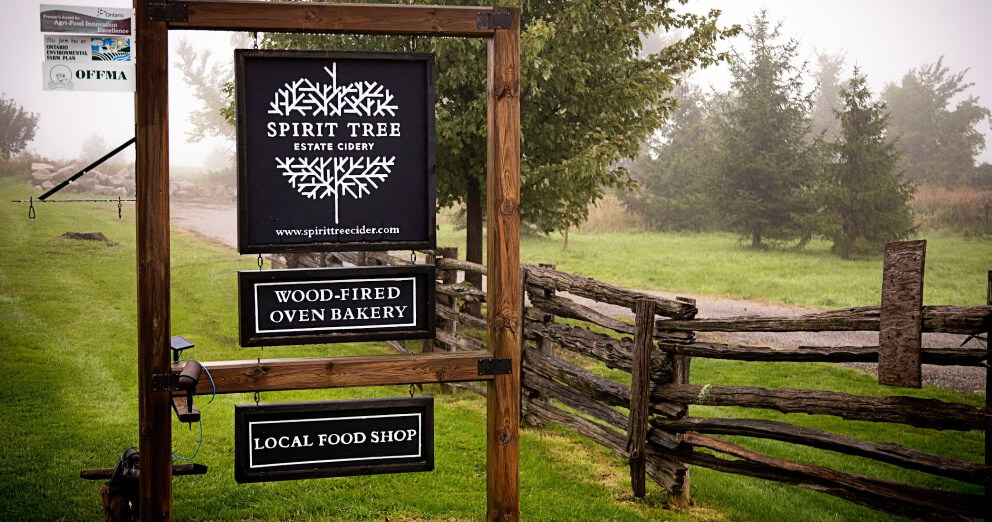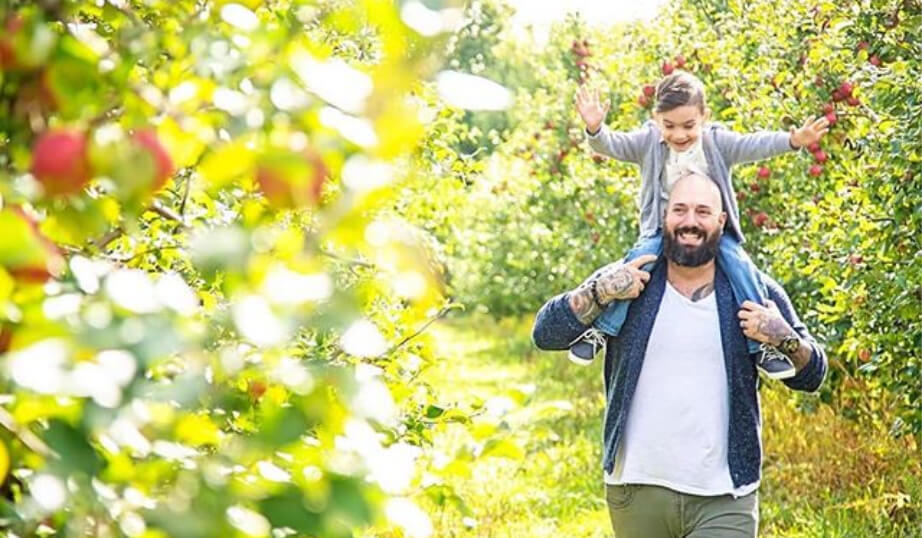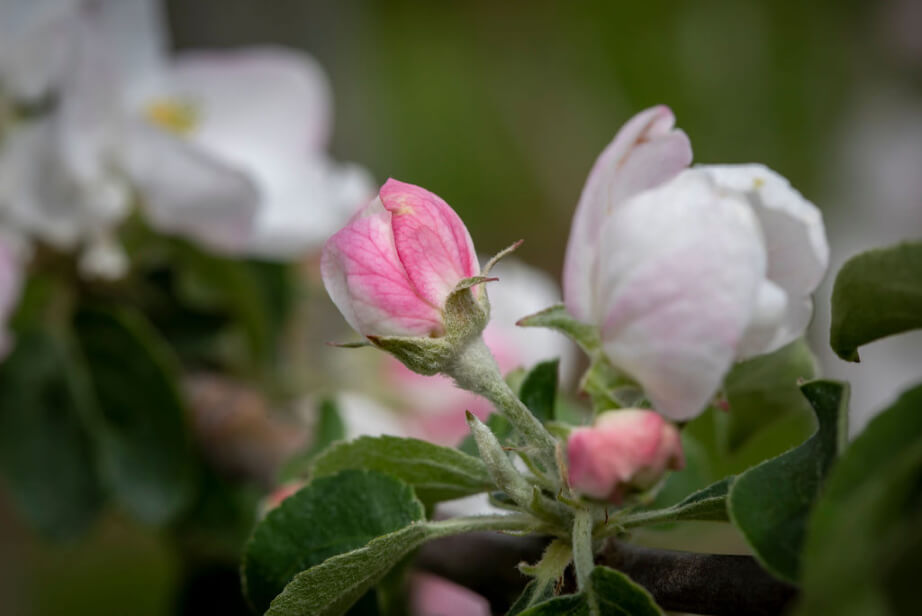 Varieties available Late September to Mid October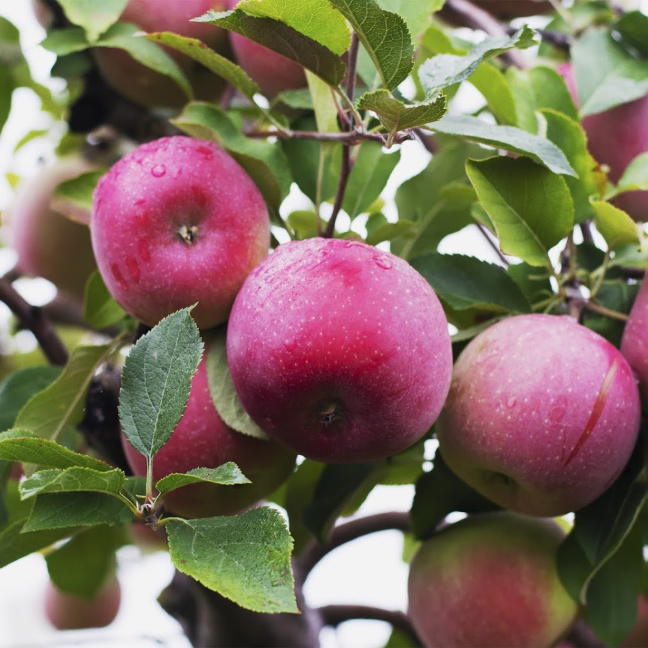 MCINTOSH
The amount of red or green on the skin of the McIntosh will vary depending on when it was harvested. Early season apples will have more green and later season will sometimes be almost all red. The flavor as well will vary, with the later season apples taking on a slightly sweeter taste than those picked earlier in the season. The McIntosh apples crisp flesh is exceptionally juicy and bright white in color. When first picked the flavor of the McIntosh apple has a strong sweet-tart taste with nuances of spice, this flavor will mellow slightly in cold storage. McIntosh apples can be used cooked or raw and in both sweet and savory preparations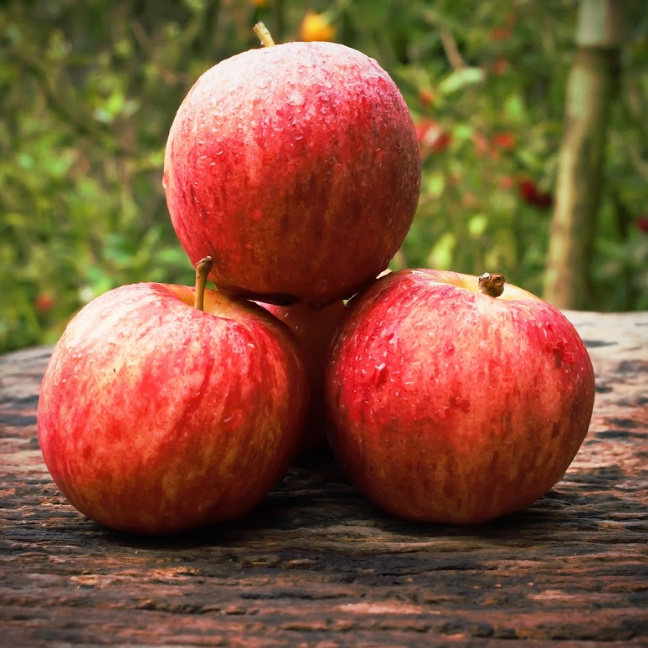 CORTLAND
Extremely slow to brown when cut, the Cortland apple is perfect for use in fresh apple preparations. Add cubed apple to green and fruit salads. Slice thin and add to sandwiches, burgers and quesadillas. Use in lieu of crackers and pair with sweet and savory dips or flavorful cheeses. The sweet tart flavor of the Cortland apple also shines in cooked preparations. Bake into cakes, tarts, cobbler, quiche and galettes or slow cook to make soups, sauce and preserves.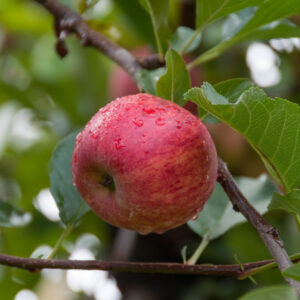 GALA
Gala apples are a great snacking fruit. The delicate flavor and texture of the Gala apple shines in fresh preparations. They are perfect for use in fruit, green and chopped salads. Add diced gala to fruit salsas and chutneys. Slice and add to burgers, paninis and crostinis. Their sweet flavor becomes milder when cooked making them perfect in baked preparations when paired with stronger flavored apples.
Varieties available Late September to Mid October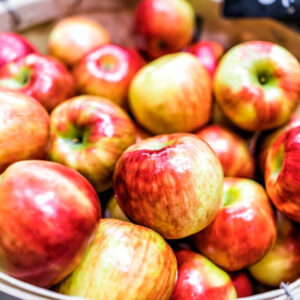 HONEYCRISP
Honeycrisp apples maintain their sweet flavor even when cooked. Try baked into a crisp or pie. Remove the skin and slow cook slices to make applesauce, preserves and apple butter. Their crisp texture shines in raw preparations, dice and add to coleslaw and chopped salads or slice thin and add to sandwiches and burgers.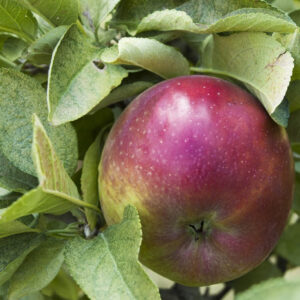 EMPIRE
Empire apples can be roasted, baked or sautéed. Their crisp flesh and sweet tart flavor make them perfect for fresh preparations. They pair well with pumpkin, pear, sharp cheeses and warm spices such as ginger, cinnamon and nutmeg. Sliced or cut apples stay white longer if put in a bowl of water containing two tablespoons of lemon juice. Their size and low susceptibility to bruising make them an excellent snacking apple.
Varieties available Mid to Late October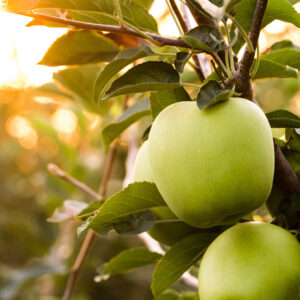 GOLDEN DELICIOUS
The sweet-tartness of the Golden Delicious means this apple is a good fresh eating variety. Fresh, raw apple slices may be added to green salads, fruit salads, or grain salads. Golden Delicious apples also have the necessary acid content and stability for baking. They can be baked into crisps, crumbles, tarts, cakes, galettes, and breads. Apple slices may also be cooked down into preserves and butters, or pureed into sauces and soups. The Golden Delicious pairs well with savory items, such as onions, cabbages, pork, cheeses and strong herbs. Add slices to top burgers and sandwiches. Finally, this versatile apple can also be juiced or dried.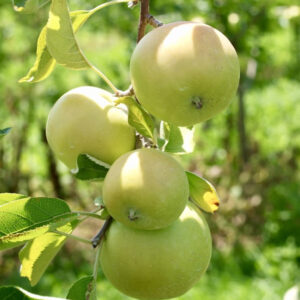 MUTSU
With its sweet and delicately spiced flavour, the Mutsu apple is sought after for its use as an excellent dessert apple in the culinary world. They can be sliced and baked, hollowed out and stuffed, battered and fried or slow cooked into a sauce. Their sweetness will compliment pies and tarts. Cubed they will add moisture and flavor to muffins, breads and cakes. Mutsu apples will compliment savory applications as well. Try roasted or sautéed for a side dish or topping, slice and add to green, chopped and stacked salads or serve as an accompaniment to robust cheeses. An excellent keeper, the Mutsu apple will take on an even sweeter flavour in cold storage.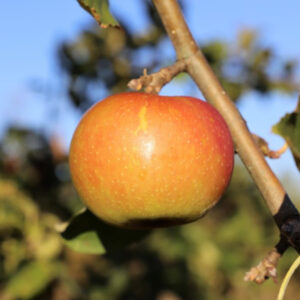 NORTHERN SPY
The Northern Spy is as versatile as apples come. They can be served raw, baked, roasted, sautéed or slow cooked to a puree. Perfect for use in classic apple preparations such as pies, tarts and cobblers. Use fresh in fruit or green salads or serve alongside honey, cheese and nuts. Like many older varieties of apple the Northern Spy is well known for its cider making qualities.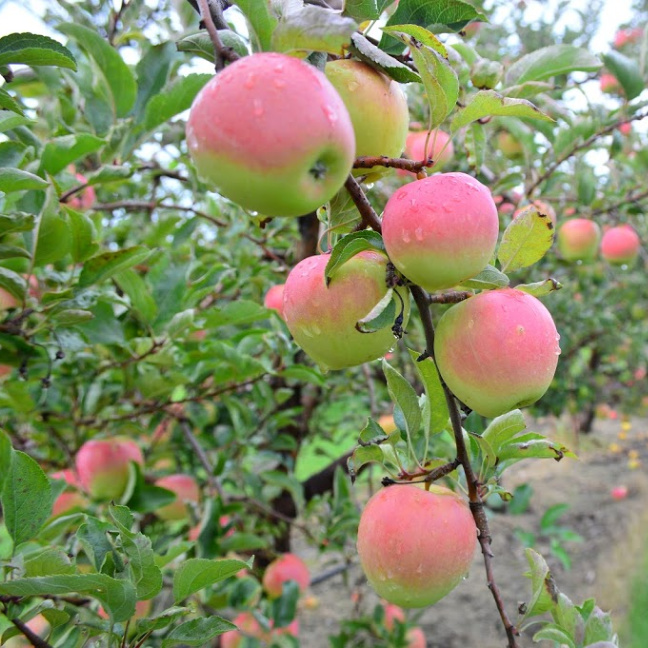 IDA RED
They are both sweet and tart, juicy, yet crisp and firm. This apple is famous for its excellent cooking and baking qualities. Idareds are particularly good for baked apples, since they hold their shape when cooked. They can also be used to make naturally pink applesauce if the skins are left on. Don't limit them to cooking, however, since they are also good apples to eat fresh as is or in salads. They pair well with strong, soft cheeses such as Roquefort and other blue cheese. Ida Red apples are a wonderful storage variety; under proper cool, dry conditions, they can keep for several months.